Aldi is advertising the Ambiano Portable Blender for $16.99. I own a Blendjet blender which looks like a very similar product. If you are someone who camps, this could be a good option for blending quick and easy breakfast smoothies on the go . Like the Blendjet, this blender charges via usb and is then able to function on the charge.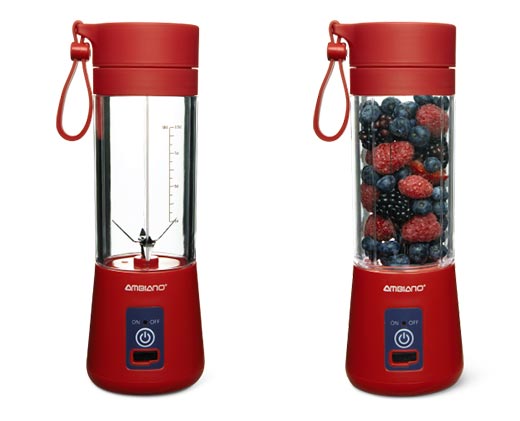 What are you sacrificing for the savings? Well, it looks like the capacity and uses vs. charge time is where you will be losing some edge to the Blendjet. For someone who is using it occasionally while weekend camping, it might not be a huge issue. With that said, if you have a solution to charge your smart phone, you could also charge this device since it is usb. Check out the comparisons below and see what you think.
Ambiano Portable Blender  vs.  Blend Jet
Cost:
Ambiano: $16.99
Blendjet: $49.99
Capacity:
Ambiano: 12.8 fl oz
Blendjet: 16 fl oz
Charge time:
Ambiano: 3 hours
Blendjet: 1.5 hours
Blends per charge:
Ambiano: 12
Blendjet: 15+
Can't find the Ambiano Blender?
Try this alternative on Amazon
If you are having a hard time locating the Ambiano blender, Amazon has theNikice blender for $20.99, which appears to be the same product under a different label.