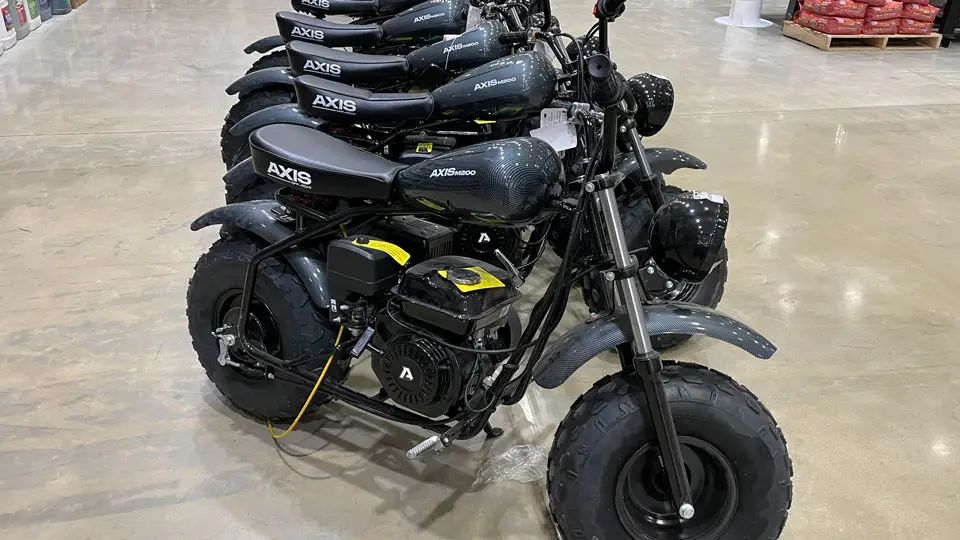 While strolling Lowe's, I stumbled upon the Axis M200 mini bike. While I've seen side-by-sides at Lowe's, a mini bike in a sea of light bulbs and lamp shades certainly catches your attention.
Priced at $799, the bike is attractive in  black and faux carbon fiber dress. It's powered by a 196cc 4-stroke Single Cylinder Engine and gets going via an automatic Centrifugal clutch.
Price
$799
Availability
The Axis M200 is offered exclusively through Lowes.
Warranty
The Axis M200 comes with a 90 Limited Warranty.
Carb Compliant
The Axis M200 is not Carb Compliant
Similar Options to consider
If you can't find the Axis M200 near you, consider some of these options:
M MASSIMO MOTOR Warrior200 See current price on Amazon
Coleman Powersports CT200U-AB Mini Bike See current price on Amazon
Trailmaster Mini Bike mb 200X Hurricane See current price on Amazon