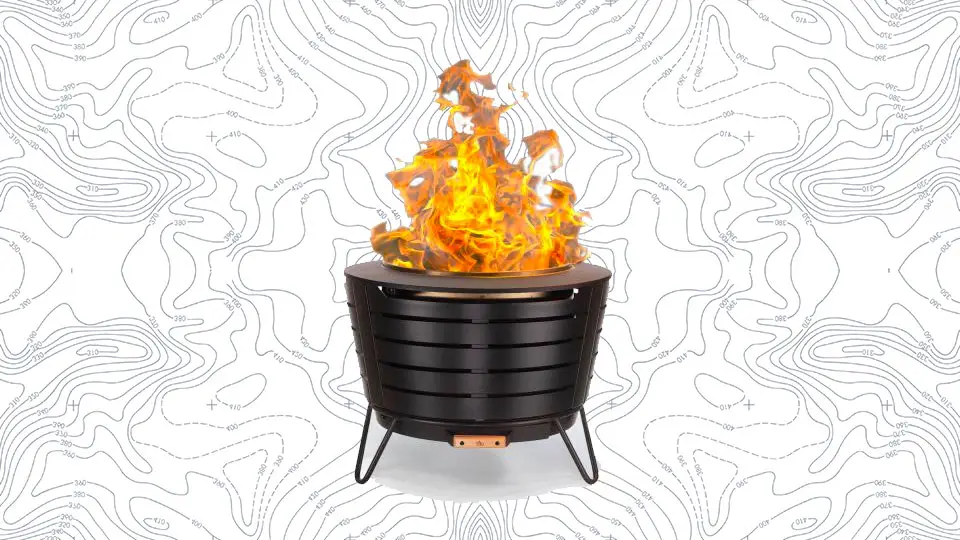 You are probably familiar with the Tiki brand and their tiki torches, but did you know that they also offer a smokeless fire pit?
If you are shopping for a smokeless fire pit, you may wonder how the Tiki Patio Fire Pit compares to a Solo Stove. Let's take a look at these options and see how they compare.
---
When looking at the Solo Stove and the Tiki Patio Fire Pit, the first obvious difference is the design. The solo Stove has a sleek polished look while the Tiki has more a mid-century modern vibe with its hairpin legs and wood on black accents. Personally, I like this look and could see it fitting in well to most backyards. 
Both units have a removable ash tray for easy clean up, and promise a low-smoke experience. At 43 lbs, the Tiki fire pit weighs around 20 lbs more than the solo stove bonfire, but does provide handles to help with the load unlike the Solo Stove Bonfire.
A few other unique features to the Tiki Patio Fire Pit are the included cover and center cone which allows you to use Tiki Wood Packs for a reliable 30 minute burn. This may sound silly to some people, but if you have small kids, you know that tending to a fire can be cumbersome if it lasts longer than your child's attention span or goes past their bedtime. For that use, I could see this being a good way enjoy a quick fire with the kids.
Price:
Tiki Patio Fire Pit: $395 See current price on Amazon

Solo Stove Bonfire: Typically $250-$299 Click here for best price
GET THE BEST DEAL ON A SOLO STOVE
Click here to see current Solo Stove Coupon codes
Fuel Type:
Tiki Patio Fire Pit: Wood or Tiki Wood Pack 
Solo Stove Bonfire: Wood
Unique Features:
Tiki Patio Fire Pit:
Includes cover and sample wood pack
Has handles
Weight:
Tiki Patio Fire Pit: 43 lbs.
Solo Stove Bonfire: 23 lbs
Manufactured in:
Tiki Patio Fire Pit: The TIKI Brand Fire Pit is made in China, but  TIKI Brand Wood Packs are made in Wisconsin from upcycled wood and sawdust.
Solo Stove Bonfire: China
Warranty:
Tiki Patio Fire Pit: TIKI® Brand Fire Pits are warranted against defects in materials and workmanship for a period of 2 years from the date of purchase when used under normal conditions for its intended purpose in a residential backyard setting.
Solo Stove Bonfire: Lifetime warranty